Handmade Bakery Treats
At New Castle Farms we enjoy sharing a tradition of delicious baked goods from our family recipes. Our freshly baked cakes, pies, and breads are a great addition to any family gathering!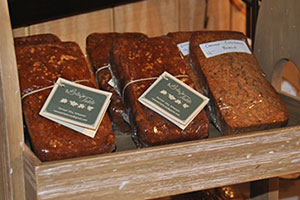 All of our desserts and breads are made from scratch right on the farm in Anita Vandiver's bakery, and are branded "Lola's Table" in honor of her late mother, whom she credits all of her cooking skills.
Stop by the Farm Market to find out what delicious treats are available. Some of our most popular items are:
Italian Cream Cheese Cake
Strawberry Cake
Anita's "Famous" Chocolate Cake
Sour Cream Coconut Cake
Pecan Pie
Check our store hours in the column to the right and stop by to taste some of the most delectable desserts in our region!