Fresh Cut Christmas Trees
Tis the season to bring the family to New Castle Christmas Tree Farm in Forrest City, Arkansas to choose and cut your very own fresh Christmas tree. New Castle Christmas Tree Farm was started in 2007 with the planting of over 350 Leyland Cypress, Carolina Sapphire, and Blue Ice Christmas trees.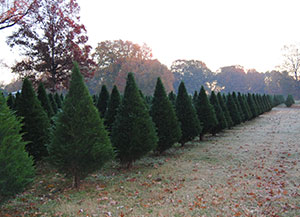 We are proud to share our harvest of our Arkansas Grown Christmas Tree Farm with you, and look forward to becoming a part of your family tradition!
New Castle Christmas Tree Farm also makes and sells our handmade fir, pine wreaths and fragrantly fresh garland!
These strings of fresh evergreen branches are great to decorate with and fill the room with the wonderful smell of live evergreen!
Local Farm Fresh Produce
and Deliciously Fresh Baked Goods
In 2010, we built our Farm Market where we sell over thirty different varieties of fresh and vitamin-packed produce including our excellent tomatoes in several varieties.
Be sure while you are visiting that you try some of the tasty treats of Lola's Table, made fresh by Anita Vandiver. Many of these decadent goodies sell quickly in our market, including her Italian Cream Cheese cake, Pecan Pie, and her "Famous" Chocolate cakes.
Lola's Table also offers other great items made with ingredients grown fresh on the farm including:
pickles
chowchow
ripe tomato slaw
jams
apple butter
and more!