Fresh Cut Christmas Trees
Venture out into our field filled with over 350 Leyland Cypress, Carolina Sapphire Cypress, and Blue Ice Cypress trees and find the perfect fit for your families Christmas display.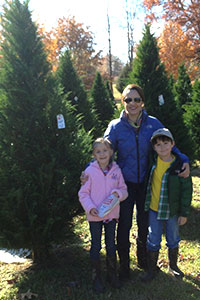 Once you find your perfect tree feel free to cut it yourself or flag us over and we will cut it for you!
While your tree is being prepped for it's journey home please enjoy a cup of steaming apple cider and a bag of delicious, freshly-popped popcorn.
The little ones will enjoy our selection of coloring books to make into masterpieces while they wait.
Pre-Cut Christmas Tree Options
On the farm we also have a selection of Fraser Fir trees cut fresh for you to browse. These trees are given special care under shade cloth and kept out of the direct-sunlight to ensure a beautiful tree for the holiday.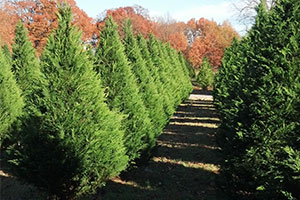 Tree Pricing
Cypress Trees
$30.00 - $55.00
Fir Trees
$40.00 - $65.00
Plush Wreaths and Garland
Want to deck the halls? We sell a variety of handmade pine wreaths and garland to spruce up all corners of your home. Each season we stock up with a hearty selection of pre-made garlands and wreaths, but our specialty is our handmade wreaths we make in our store!
Did you know these beautiful swags will also enchant your home with the clean pine scent of evergreen and are just as pleasing to the nose as they are in appearance.